My 1999 BMW 540iA Sport
My magnificent machine.
---
Oooh, pretty.
It's like the commercial says—the driver loves the car.
---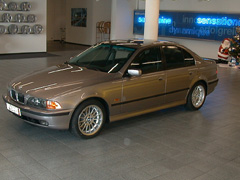 The car itself (1024x768 JPG)
This is how the car was delivered to me at the BMW Niederlassung delivery center in Munich.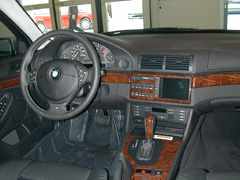 The dashboard (1024x768 JPG)
Here's the interior of the car. It's got the new-for-the-US Steptronic semi-automatic transmission, the navigation system, the M-Technik steering wheel, and a cheap temporary plastic floor mat on the driver's side.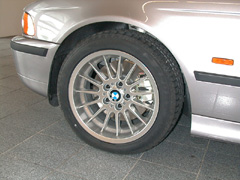 The front wheel (800x600 JPG)
This picture shows the 15-spoke alloy wheels and the big disk brakes.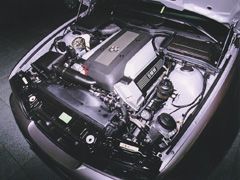 The engine compartment (1024x768 JPG)
My 540i is equipped with this 4.4-liter, 282-HP, 324-lb-ft V-8 engine. This engine will accelerate the car from 0 to 60 in about 5.6 seconds with the manual transmission, or about 5.8 seconds with the Steptronic semi-automatic transmission I chose.
The big payoff (633x470 JPG)
Here's what I really went to Germany for.

On the autobahns, on several occasions when weather and traffic allowed, I reached speeds over 140 mph. Once, shown here, I topped 155 MPH-- the rated top speed of the 540i. The picture above was captured from a video. You can download a QuickTime movie (1 minute, 17 seconds; 4.9M) of the video that shows the car accelerating under full throttle from about 80 mph to the final 155+ MPH speed. This video also requires QuickTime 3.0 for Mac or PC.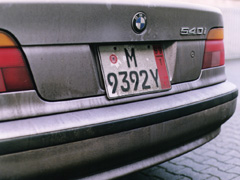 Parting shot
(1024x768 JPG)
After eight days of zooming around Germany, this is what the back of the car looked like.